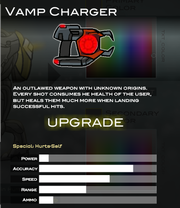 Vamp Charger

Technology

Unknown

Type

Side Arm

Special

Hurts-self

Price

1500c
"An outlawed weapon with unknown origins. Every shot consumes he health of the user, but heals them much more when landing sucessful hits"-Description

The Vamp Charger is a rare pistol in Raze 3.
Description
Edit
Thi weapon shares most of the traits with the old Vamp Charger from Raze 2, except that no longer uses a pistol shape, but a new futuristic pistol with "fangs" at the front, being similar to the Raze 2 Photon Blaster.
Upgrades (abilities)
Edit
Sight
Ammo
Grip
Price

Target Aquisitor

(Headshot+, Crotchshot+, Buttshot+)

Armor Piercing

(Robot Damage+)

Steady Grip
390c

LED Sight

(Vision++)

Hollow Point

(Human Damage+)

Two Hands

(Vision+)

430c

Kryptonite

(Alien Damage+)

Hyper Grip

(Vision+)

470c

Corrosive Tip

(Zombie Damage+)

510c

Phosphorus Coat

(Fire+)

550c
Ad blocker interference detected!
Wikia is a free-to-use site that makes money from advertising. We have a modified experience for viewers using ad blockers

Wikia is not accessible if you've made further modifications. Remove the custom ad blocker rule(s) and the page will load as expected.