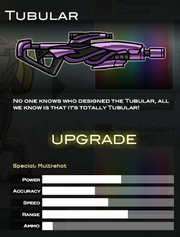 Tubular

Technology

Unknown

Type

Long Range

Special

Multi-shot

Price

Premium
"No one knows who designed the Tubular, all we know is that it's totally tubular"-Description

The Tubular is a long range weapon of Raze 3
A long range weapon that is powerful enough to take the enemy in seconds. Its dual shot and long range makes it unique, and the ammo is desirably good. However, accuracy seems to be nonexistent with this weapon as the shots goes everywhere.
Upgrades (effects)
Edit
Ad blocker interference detected!
Wikia is a free-to-use site that makes money from advertising. We have a modified experience for viewers using ad blockers

Wikia is not accessible if you've made further modifications. Remove the custom ad blocker rule(s) and the page will load as expected.