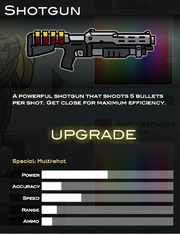 Shotgun

Technology

Human

Type

Close Range

Special

Multi-shot

Price

Free
"A powerful shotgun that shoots 5 bullets per shot. Get close for maximum efficiency."-Description
The Shotgun is a weapon of Raze 3.
Is one of the basic shotguns given to the player. While is not very fast and has a decent time of reload, is still powerful to be a decent weapon. As the description says, is even lethal if the enemy receives all the five shots from each shell.
Upgrades (effects)
Edit
Barrel
Ammo
Trigger
Price
Silencer
Armor Piercing

(Robot-Damage+)

Hair Trigger
180c
Muzzle Break
Hollow Point

(Human-Damage+)

Auto Trigger

(Autofire)

210c
Heated Barrel

(Headshot+, Crotchshot+, Buttshot+)

Kriptonite

(Alien-Damage+)

Bolt Trigger
240c
Spiral Barrel
Corrosive Tip

(Zombie-Damage+)

270c
Phosphorus Coat

(Fire+)

300c
Ad blocker interference detected!
Wikia is a free-to-use site that makes money from advertising. We have a modified experience for viewers using ad blockers

Wikia is not accessible if you've made further modifications. Remove the custom ad blocker rule(s) and the page will load as expected.