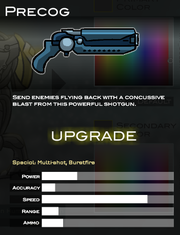 Precog

Technology

Human

Type

Close Range

Special

Multi-shot, Burstfire

Price

Premium
"Send enemies flying back with a concussive blast from this powerful shotgun."-Description

The Precog is a weapon of Raze 3.
Is essentially a faster Blunderbuss, with high damage, decent range and decent damage. Hitting an enemy with 3 shots is usually lethal. In other words, is still worthly and affordable.
Upgrades (abilities)
Edit
The Precog is based off the "sonic guns" seen in the movie Minority Report.