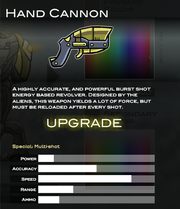 Hand Cannon

Technology

Alien

Type

Side Arm

Special

Multi-shot

Price

2000c
"A highly accurate, and powerful burst shot energy based revolver. Designed by the aliens, This weapon yields a lot of force, but must be reloaded after every shot"-Description

The Hand Cannon is an alien revolver featured in Raze 3.
Description
Edit
The Hand Cannon seems to have high damage and good accuracy, which, combined with the dual shot, makes this pistol dangerous. However, only have a decent rate of fire and sometimes will miss the shot at long distances.
Upgrades (abilities)
Edit
Barrel
Trigger
Grip
Price
Silencer
Hair Trigger
Grip
495c
Muzzle Break
Bolt Trigger
Magnetic
540c

Heated Barrel

(Headshot+, Crotchshot+, Buttshot+)

Ergonomic
585c
Memory Foam
630c
Ad blocker interference detected!
Wikia is a free-to-use site that makes money from advertising. We have a modified experience for viewers using ad blockers

Wikia is not accessible if you've made further modifications. Remove the custom ad blocker rule(s) and the page will load as expected.