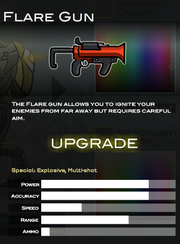 Flare Gun

Technology

Human

Type

Explosive

Special

Explosive, Multi-shot

Price

2,250c
"The Flare Gun allows you to ignite your enemies from far away but requires careful aim"-Description

The Flare Gun is a new gun for Raze 3.
Is one of the best grenade launchers ever seen in the game. It fires 4 sticky grenades that causes a high damage that if sticks onto a single enemy, is practically lethal, shielded or not.
Upgrades (abilities)
Edit
Barrel
Clip
Trigger
Price
Heated Barrel

(Headshot+, Crotchshot+, Buttshot+)

Bullet Feeder
Hair Trigger
547c
Spiral Barrel
Extended Clip
Auto Trigger

(Autofire)

595c
Conservative
Double Clip
642c
Ad blocker interference detected!
Wikia is a free-to-use site that makes money from advertising. We have a modified experience for viewers using ad blockers

Wikia is not accessible if you've made further modifications. Remove the custom ad blocker rule(s) and the page will load as expected.