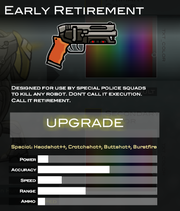 Early Retirement

Technology

Human

Type

Side Arm

Special

Headshot++, Crotchshot+, Buttshot+, Burstfire

Price

Premium
"Designed for use by special police squads to kill any robot. Don't call it execution. Call it retirement"-Description

The Early Retirement is an exclusive weapon in Raze 3.
A decent machine pistol that fires in a 3-round burst. Makes a good amount of damage and a good range, although low accuracy. Is better to be used for close range and good to kill robots.
Upgrades (effects)
Edit
The Early Retirement appears to be based off the LAPD 2019 Blaster from the movie Blade Runner.
It might be a reference to Robocop franchise, as the main character is well known for using a 3-round burst pistol.
Ad blocker interference detected!
Wikia is a free-to-use site that makes money from advertising. We have a modified experience for viewers using ad blockers

Wikia is not accessible if you've made further modifications. Remove the custom ad blocker rule(s) and the page will load as expected.