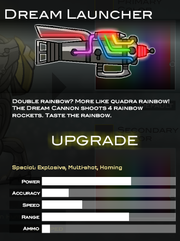 Dream Launcher

Technology

Unknown

Type

Explosive

Special

Explosive, Multi-shot, Homing

Price

Premium
"Double rainbow? More like quadra rainbow! The Dream Cannon shoots 4 rainbow rocket. Taste the rainbow"-Description
The Dream Launcher is a novelty weapon in Raze 3.
Being very comparable to the Fishbones, is one of the most powerful explosive weapon in the game. The rockets generally deals a high amount of damage, enough to kill an unshielded enemy with 2 rockets. Being also accurate but creates an arc of every shot, is still dangerous for anyone, including the wielder.
Upgrades (effects)
Edit
Ad blocker interference detected!
Wikia is a free-to-use site that makes money from advertising. We have a modified experience for viewers using ad blockers

Wikia is not accessible if you've made further modifications. Remove the custom ad blocker rule(s) and the page will load as expected.