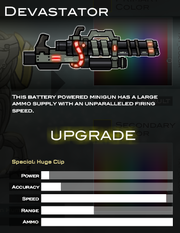 Devastator

Technology

Human

Type

Automatic

Special

Huge Clip

Price

1500c
"This battery powered minigun has a large ammo supply with an unparalleled firing speed"-Description

The Devastator is a weapon introduced in Raze 3
Description
Edit
Is a some sort of minigun that makes a decent amount of damage and is pretty fast. However, suffers a high level of recoil, thus losing accuracy. Range is strangely high, as it doesn't make it excellent for long range assaults.
Is better to be used wisely at long range or using it at full auto near the enemy.
Upgrades (abilities)
Edit
Grip
Barrel
Stock
Price
Grip
Power Barrel

Steel Stock

(Headshot+, Crotchshot+, Buttshot+)

390c
Magnetic

Double Shot

(Multi-shot)

Carbon Stock
430c
Ergonomic
Focussed Barrel
470c
Memory Foam
510c
The Devastator is based off the Cerberus machine gun from Strike Force Heroes 2. In turn, both weapons are based off an unused early design for the M404 Heavy Rifle from Deus Ex: Human Revolution.
Ad blocker interference detected!
Wikia is a free-to-use site that makes money from advertising. We have a modified experience for viewers using ad blockers

Wikia is not accessible if you've made further modifications. Remove the custom ad blocker rule(s) and the page will load as expected.