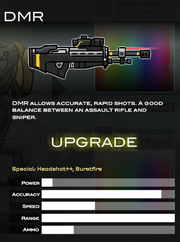 DMR

Technology

Human

Type

Long Range

Special

Headshot++, Burstfire

Price

1,000c
"DMR allows accurate, rapid shots. Agood balance between an assault rifle and sniper"-Description

The DMR is a long range weapon featured in Raze 3 and the only sniper rifle that possesses burst fire by default.
As the game implies, the DMR is a good balance between an assault rifle and a sniper rifle, being useful if the player runs out the assault rifle ammo. It is fairly balanced with 3-round burst, good accuracy and low recoil, though damage is not a high priority for each bullet, being necessary 6-9 bullets to kill an enemy, depending on the player's skill to hit weak points.
Upgrades (effects)
Edit
Barrel
Stock
Trigger
Price
Silencer
Steel Stock

(Headshot+, Crotchshot+, Buttshot+)

Hair Trigger
285c
Muzzle Break
Carbon Stock
Auto Trigger

(Autofire)

320c
Heated Barrel

(Headshot+, Crotchshot+, Buttshot+)

Bolt Trigger
355c
Ad blocker interference detected!
Wikia is a free-to-use site that makes money from advertising. We have a modified experience for viewers using ad blockers

Wikia is not accessible if you've made further modifications. Remove the custom ad blocker rule(s) and the page will load as expected.