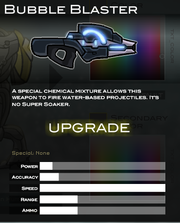 Bubble Blaster

Technology

Alien

Type

Automatic

Special

None

Price

750c
"A special chemical mixture allows this weapon to fire water-based projectiles It's no Super Soaker"-Description

The Bubble Blaster is an alien assault rifle available in Raze 3.
Description
Edit
This weapon has similar stats to the Assault Rifle, albeit more poweful but less accurate.
Upgrades (abilities)
Edit
Sight
Barrel
Stock
Price

6x Scope

(Vision+)

Silencer

Steel Stock

(Headshot+, Crotchshot+, Butshot+)

232c

12x Scope

(Vision+)

Conservative
Carbon Stock
265c

Target Aquisitor

(Headshot+, Crotchshot+, Buttshot+)

Power Barrel
297c

LED Sight

(Vission++)

Double Shot

(Multi-shot)

330c
Ad blocker interference detected!
Wikia is a free-to-use site that makes money from advertising. We have a modified experience for viewers using ad blockers

Wikia is not accessible if you've made further modifications. Remove the custom ad blocker rule(s) and the page will load as expected.