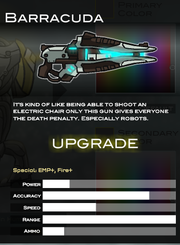 Barracuda

Technology

Alien

Type

Long Range

Special

EMP+, Fire+

Price

1,250c
"Its kind of like being able to shoot an electric chair only this gun gives everyone the death penalty. Especially robots."-Description

The Barracuda is a long range weapon of Raze 3.
Is a good weapon that deals a decent amount of damage, able to kill a target in 3-4 shoots. However, doesn't travel fast enough to match a sniper rifle, being prone to miss the target.
Upgrades (effects)
Edit
Barrel
Clip
Trigger
Price
Silencer
Bullet Feeder
Hair Trigger
337c
Muzzle Break
Extended Clip
Bolt Trigger
375c
Heated Barrel

(Headshot+, Crotchshot+, Buttshot+)

Double Clip
412c
Spaz

(Autofire)

450c
The Barracuda's appearance seems to be based off the Link Gun from Unreal Tournament 3.
Ad blocker interference detected!
Wikia is a free-to-use site that makes money from advertising. We have a modified experience for viewers using ad blockers

Wikia is not accessible if you've made further modifications. Remove the custom ad blocker rule(s) and the page will load as expected.