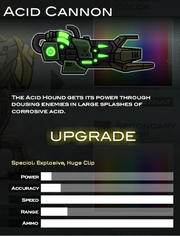 Acid Cannon

Technology

Alien

Type

Automatic

Special

Explosive, Huge Clip

Price

1750c
"The Acid Hound gets its power through dousing enemies in large splashes of corrosive acid"-Description

The Acid Cannon is a weapon seen in Raze 3
Description
Edit
Is an automatic weapon that fires splashes of corrosive acid, that makes a decent damage once sticks on the enemy, like any sticky grenade.
The disadvantage is that makes a notorious arc, being difficult to aim at the enemy or even using it against an enemy in a upper height level. However, thanks to its natural recoil, can devastate an area surrounded by enemies, sticking its splashes over anything in its path.
Upgrades (abilities)
Edit
Grip
Cannon
Ammo
Price
Grip
Wide Nose

Armor Piercing

(Robot Damage+)

442c
Magnetic
Narrow Cannon

Hollow Point

(Human Damage+)

485c
Ergonomic

Burst Shot

(Multi-shot)

Kryptonite

(Alien Damage+)

527c
Memory Foam

Corrosive Tip

(Zombie Damage+)

570c

Phosphorus Coat

(Fire+)

612c
The Acid Cannon appears to be based off the Bio Rifle from Unreal Tournament 3.
Ad blocker interference detected!
Wikia is a free-to-use site that makes money from advertising. We have a modified experience for viewers using ad blockers

Wikia is not accessible if you've made further modifications. Remove the custom ad blocker rule(s) and the page will load as expected.