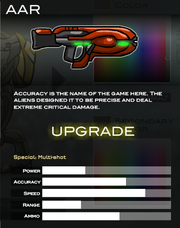 AAR

Technology

Alien

Type

Automatic

Special

Multi-shot

Price

2000c
"Accuracy is the name of the game here. The aliens designed it to be precise and deal extreme critical damage"-Description

The AAR is a weapon featured in Raze 3.
Description
Edit
The AAR is the highest-grade Alien automatic weapon in the Raze 3 arsenal. It is an extremely well-rounded weapon, boasting almost equal levels of power, accuracy, range, and rate of fire. When properly upgraded, it can kill most targets with a single shot to the head, or two to three shots to the body.
Perhaps the closest rival to the AAR is the Human Jack Rifle, whose stats are also balanced. However, between the two, the AAR possesses superior power, accuracy, and rate of fire, while the Jack Rifle possesses superior range and a larger ammo capacity.
Upgrades (abilities)
Edit
Sight
Stock
Barrel
Price

6x Scope

(Vision+)

Steel Stock

(Headshot+, Crotchshot+, Buttshot+)

Silencer
495c

12x Scope

(Vision+)

Carbon Stock
Muzzle Break
540c

Target Aquisitor

(Headshot+, Crotchshot+, Buttshot+)

Heated Barrel

(Headshot+, Crotchshot+, Buttshot+)

585c

LED Sight

(Vision++)

Spiral Barrel
630c
Ad blocker interference detected!
Wikia is a free-to-use site that makes money from advertising. We have a modified experience for viewers using ad blockers

Wikia is not accessible if you've made further modifications. Remove the custom ad blocker rule(s) and the page will load as expected.