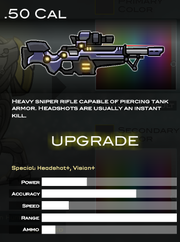 .50 Cal

Technology

Human

Type

Long Range

Special

Headshot+, Vision+

Price

Free
"Heavy sniper rifle capable of piercing tank armor. Headshots are usually an instant kill"-Description

The .50 Cal (Dimunitive for .50 caliber sniper rifle) is a sniper of Raze 3.
The .50 Cal Sniper is the first of the non-premium long-range weapons to be unlocked, before the Pulsator. It does about 30% damage on a normal alien, damage is doubled on a headshot. With it's upgrade that gives headshot++, crostchshot+, buttshot+, a carefully aimed shot can kill in one hit.
Prominent Users
Edit
Ghost is seen using this weapon, especially in Level 10 Human: Sniper Support
Upgrades (effects)
Edit
Sight
Barrel
Clip
Price
6x Scope

(Vision+)

Silencer
Bullet Feeder
180c
12x Scope

(Vsion+)

Muzzle Break
Extended Clip
210c
LED Sight

(Vision++)

Heated Barrel

(Headshot++, Crotchshot+, Buttshot+)

Double Clip
240c
Spiral Barrel
Spaz

(Autofire)

270c
The .50 Cal Sniper's appearance seems to be modeled after the sniper rifle from Unreal Tournament 3.
Ad blocker interference detected!
Wikia is a free-to-use site that makes money from advertising. We have a modified experience for viewers using ad blockers

Wikia is not accessible if you've made further modifications. Remove the custom ad blocker rule(s) and the page will load as expected.